I'm BACK!!! (pics too)
Hey guys!
Long time no blog. :) LOL. It's been a rough time this past month or so, but I am here and ready to start posting again. I have a gazillion pics and such that I would love to post here, but only so much time today. I've already spent too much time on the computer today (as usual, LOL).
OK, following will be a few different pics. We had a NS get-together up in Denver this past Saturday- June 9th, 2007. It was a great time with a few of the same people from the last couple get-togethers, as well as a bunch of new faces. I got to drag Mike and the kids along too, which was nice, except my 10 yr old apparently decided to drive my husband batty for the entire meal. UGH, gotta love these stages they go through (and we're not even close to the teenage years yet, LOL). Anyway, it was a great time meeting people nonetheless, and I'm so glad we were able to do it! Unfortunately, along with the difficulties of this past month I have had a hard time sticking to my good eating plan, so I was a good 5 lbs more in these get-together pics than I would've liked, but such is life (and the maintenance battle for me). Up and down and up and down. As long as I stick under 130 lbs I will be happy.
This Thursday is my 29th birthday, and will also mark my 2 year anniversary since meeting my NS goal weight of 130 lbs. Two years on maintenance already... WOW! I really do think I can do this for the rest of my life! I mean, it will NEVER be easy, but it is SO worth the effort!
OK, other pics will include some that Mike snapped of me this past Sunday in all my new hockey gear, some of Katrina from her last hockey tournament when they won silver, and a couple of our new baby bunny- OREO. hehe. He's a cutie- about 2 1/2 months old now and just sweet as can be. The story with me in the new hockey gear is that the WHOLE family except for me plays inline hockey. Mike has been trying to get me to play for a while now, and I finally signed up last week. I will start playing on a novice league in about a week and it should be fun (and funny for spectators too, LOL). We'll see how that goes! :)
Hope you all are doing well and thanks again for letting me share my life with you all!
Amy Smith
NS get-together in Denver, June 9 2007
Left to Right (kinda):
Abraham and Rochelle (PharmDGril,in the blue shirt); Nancy (divinemsn, blonde in the pink shirt); Sy and Liz (snowhyte0621, back row behind Nancy); Katrina, Tyler, me, and my hubby Mike (don't mind the bad pic- we were all staring into the sun); Wendy (USMC-WIFE in the pink top, next to her husband Dan and their 3 kids); Julie (MOM2NN, white shirt) with her son Noah in the front row (blue shirt); Kate (musgal, the gorgeous redhead with the white top); and Sharon (skb26) who asked not to be in the front row again (LOL, sorry Sharon!!!) Missing- Bonnie (jersey89) who had to leave before we went outside to take pics...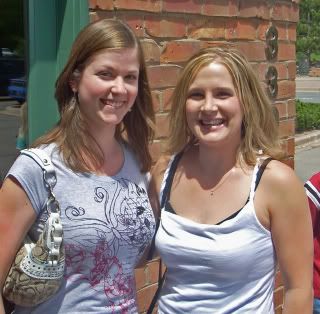 Me + Liz (snowhyte0621)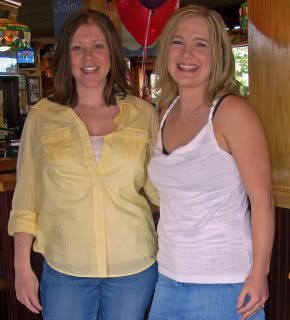 Me + Bonnie (jersey89)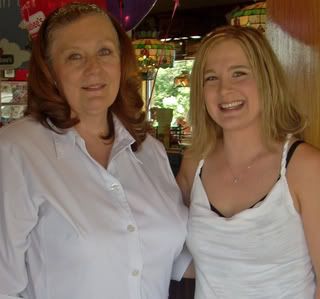 Me + Kate (musgal)
Snapshots from lunch: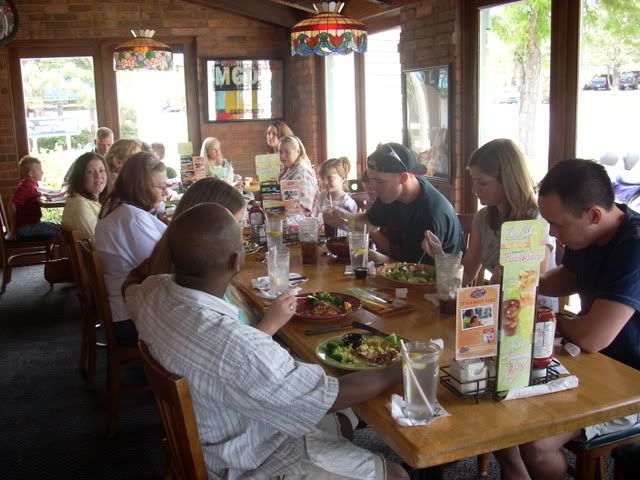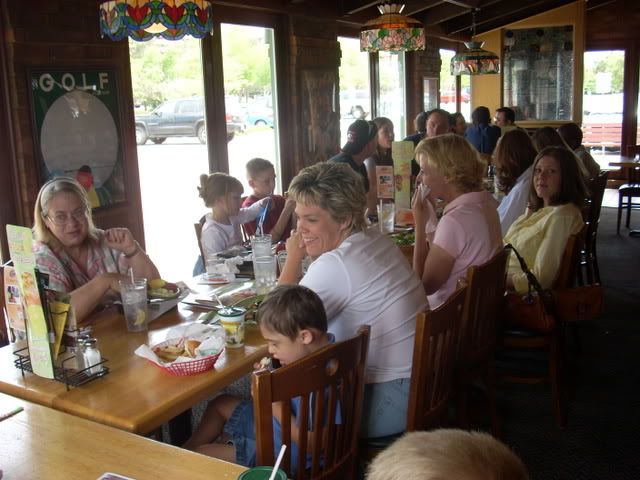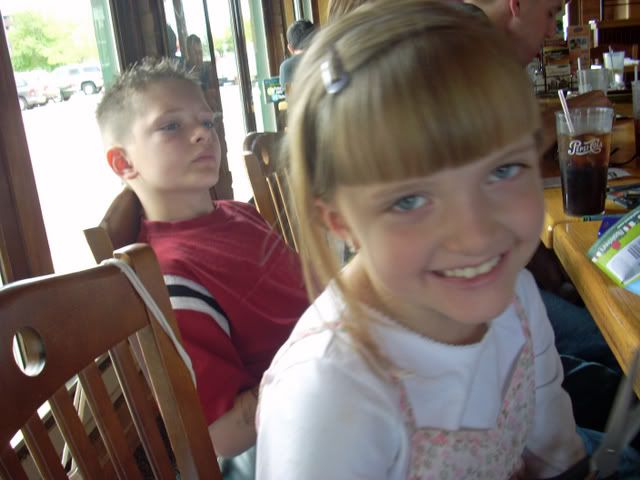 Man, does Tyler look excited or what?! LOL. He of course put bunny ears over Katrina's head when he noticed I was taking pics, but I missed getting that one on camera... Figures. I ALWAYS miss those good Kodak moments!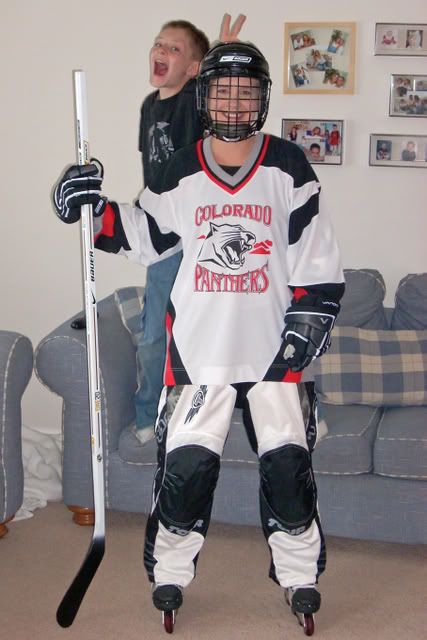 Oh, look, bunny ears! LOL. Here is me in my new hockey gear with Tyler making fun of me. :)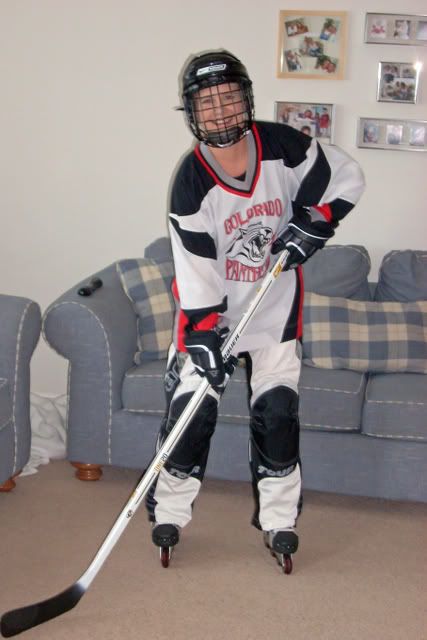 Pic before Mike cut down my stick to size and wrapped the blade and the top of the stick in the HOT PINK stick tape I picked out. hehehee. :)
Katrina after their hockey tournament a week ago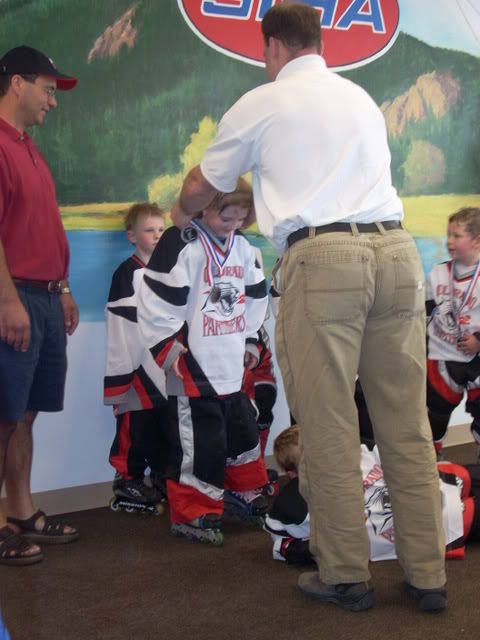 Katrina receiving her silver medal from one of the rink employees
Katrina with her hockey team and their assistant coach Albert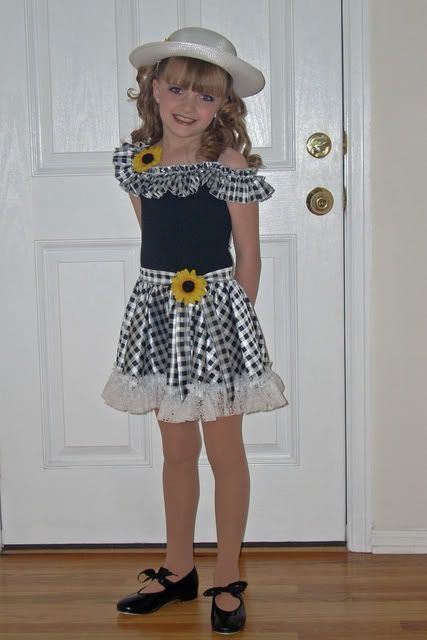 Katrina in her tap dance costume, before her dance recital (the Friday before the hockey tournament)- talk about the 2 extremes. LOL...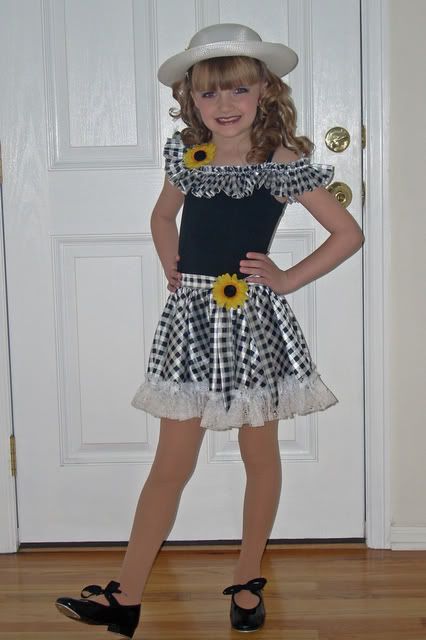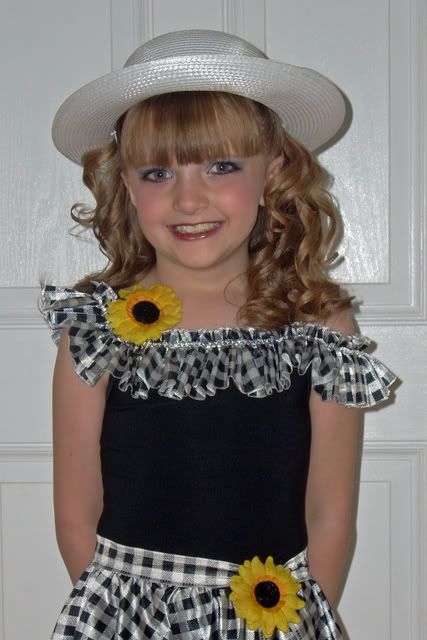 Nothing like massive amounts of makeup on my little 7 yr old "baby" girl!
Little video clip of Katrina's tap dance (this was during the dress rehearsal; they don't let you record during the actual performance) CLICK TWICE TO PLAY:
(Katrina is the one right in front of the wood post thing)
Pic of Katrina and a few of the girls from her dance class, right before the recital (Katrina is 3rd from the left)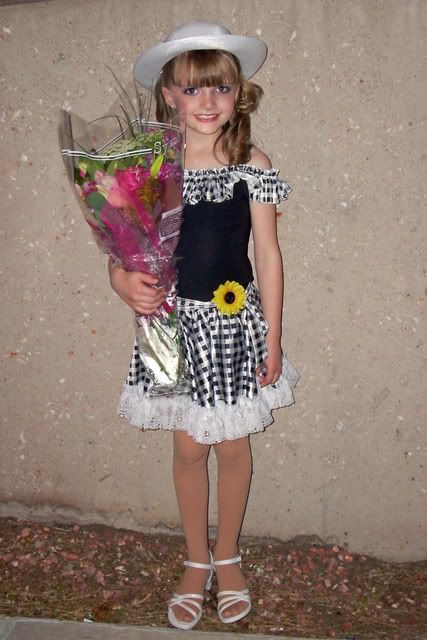 After the recital with her flowers
I also took the kids to McDonald's with my parents after the dress rehearsal. A few snapshots of them playing: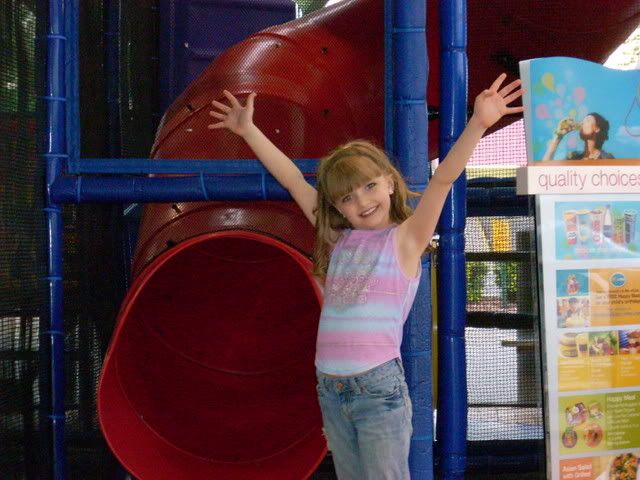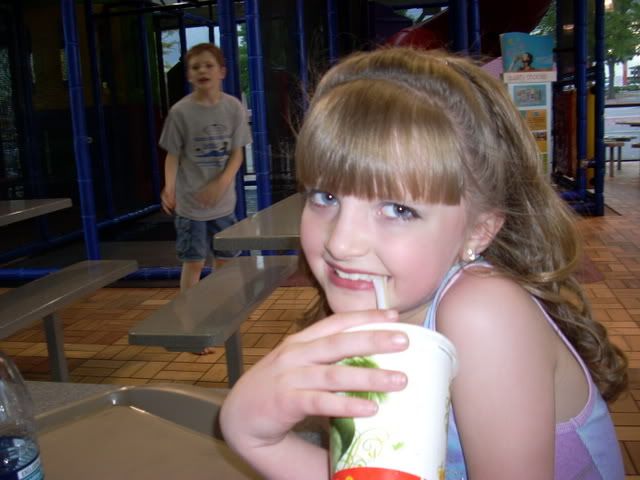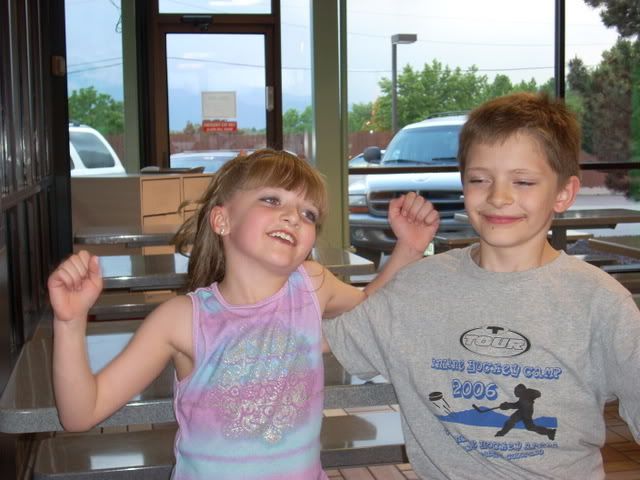 (REALLY hard to get any decent pics of Tyler; he HATES getting his picture taken!)
(A little blurry, but I loved her reflection in the fish tank on this one, LOL)
And some of our new baby bunny "Oreo". He is much cuter in person, and has black eyes (not red like they show up in some of the pics):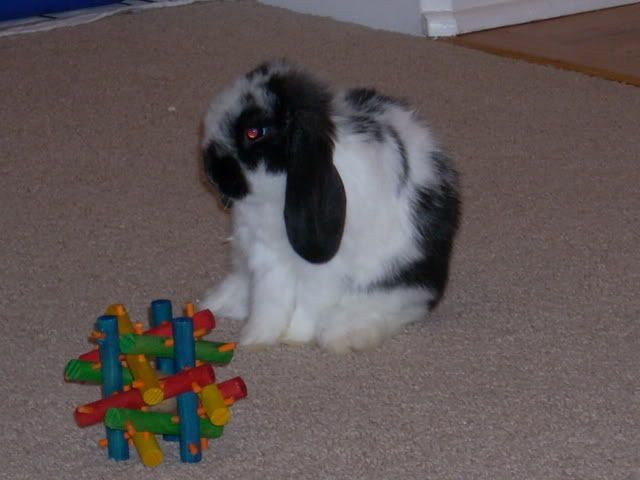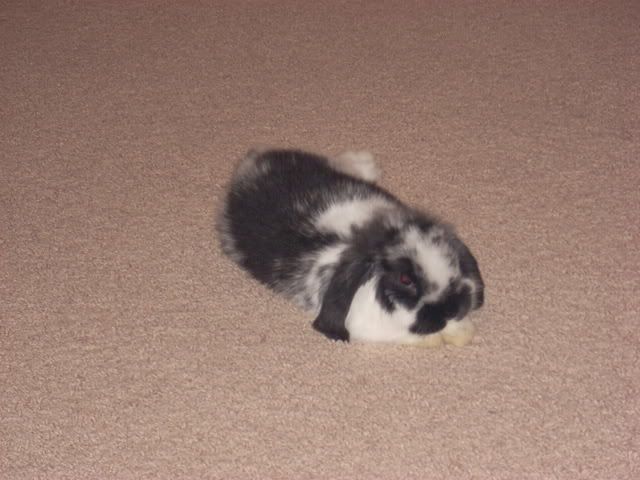 OK, that's all for now! See ya! I'll leave ya with a couple of my most recent comparison shots from April: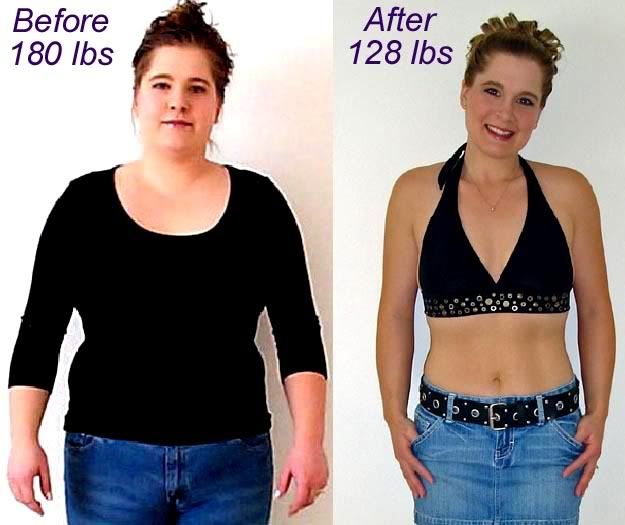 Jan 2005 and April 2007